Paris, March 2, 2020. Scandinavian White is a brand inspired by Nordic countries whose Ecolabel certified products protect both the environment and customers' well-being. It is Groupe GM's first responsible and sustainable range.

Scandinavian White boasts Ecolabel formulation and its packaging complies with EU Ecolabel criteria. The Ecolabel of the European Union is a unique certification system which is designed to help consumers recognise the most environmentally friendly products and services. Ecolabel certified cosmetics are guaranteed to have a reduced impact on aquatic ecosystems, fulfil strict biodegradability requirements and limit packaging waste.
Scandinavian White's minimalist black and white packaging is inspired by Scandinavian universes, where Norwegian and Danish 'hygge' and Swedish 'lagom' are cultivated. They represent intimate and cozy 'art de vivre', that promotes a philosophy based on well-being, balance, simplicity and ethics.
Scandinavian White's packaging is made from recycled or bio-sourced materials: the 30ml bottles and caps used for the Shower Gel, Shampoo, Conditioner**, Body Lotion** and Hair & Body Gel are all made from 100% recycled plastic. To go a step further, their stickers are also made with recycled paper, and the Ecopump dispensers are 100% recyclable. To complete the line, the Plant-Based Soap (15g) is wrapped in a 90% recycled cardboard box.
Scandinavian White strives to achieve minimum waste for maximum environmental protection. Not only is the environment a concern for Scandinavian White, but safeguarding the health of its users is equally as important, and that is why the Scandinavian White line boasts 95%* of natural origin ingredients.
* : average calculated on the whole range of products
* : not Ecolabel certified
The Scandinavian White products have a minimum naturality percentage of 92%, and up to 99%. The RSPO Mass-Balanced certified palm oil used in the soap contributes to the production of certified sustainable palm oil.
The Scandinavian White range has been leading the fight against plastic since its launch in 2011. As a pioneer in the ethical green movement, the range is part of Groupe GM's broader overreaching policy aimed at environmental protection, which is highlighted through its 'Care About Earth' program.
Through this program, the company is committed to developing the eco-friendliest solutions possible, thanks to responsible packaging and wrapping (plastic-free solutions, 100% plant-based packaging and large format dispensers), responsible manufacturing, natural formulas, innovative products, and all of which provide a positive impact on the planet through its communities (charities, consumers, suppliers, employees, etc.).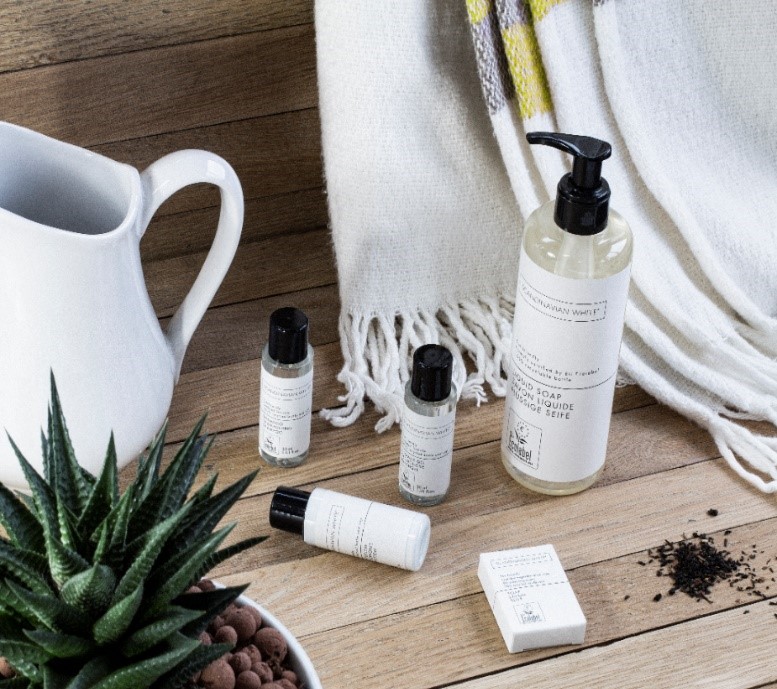 Laurent Marchand, President of Groupe GM, recently commented on the range's metamorphosis, saying: 'We designed the Scandinavian White brand using almost 100% recycled plastic, as our goal at Groupe GM is to be the eco-friendliest, we can possibly be. It is of huge importance to us that we contribute to a cleaner environment and provide our customers and the environment with non-harmful products. We will continue our efforts in offering our clients the safest and most sustainable solutions."
Discover all the brands offered by Groupe GM at: http://www.groupegm.com/ – or alternatively contact your local distributor. For the US, contact the TY GROUP on + 1 305 805 8085 or visit their website: http://www.t-ygroup.com/. For the UK Distributor, please contact ASLOTEL on +44 1372 362 533 or visit their website: http://www.aslotel.co.uk