The international leader in the guest amenity industry, Groupe GM has relaunched one of its top-selling brands Keiji, with a whole new design of its line and an emphasis on sustainability.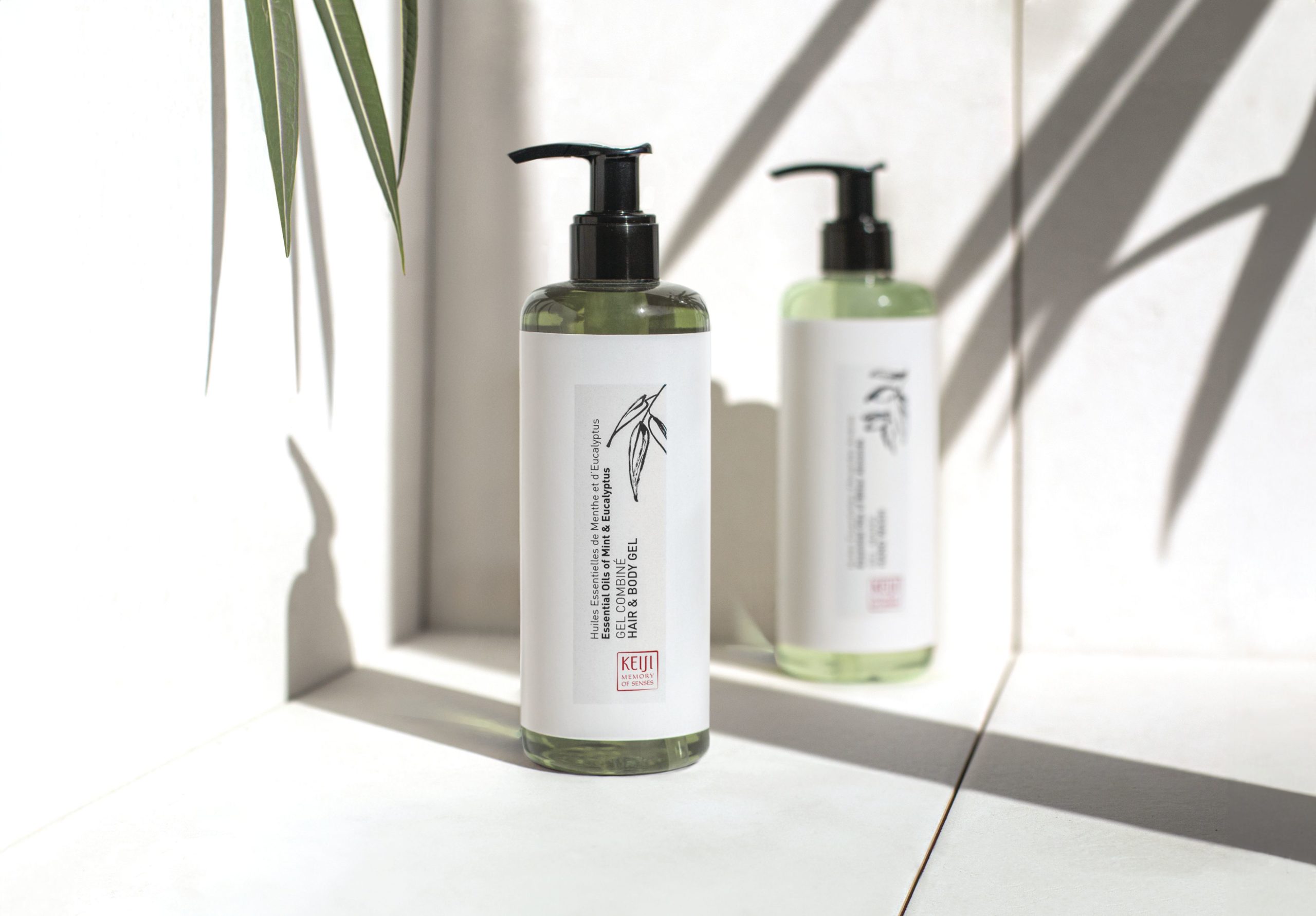 For thousands of years, numerous civilizations have explored the secrets of fragrances and essential oils. This ancient knowledge, source of natural well-being, is also known as aromatherapy and serves as inspiration for the Keiji amenity line.
The line is rooted in nature and this ancestral expertise that acts both on the body and soul, stimulating or soothing the senses. Well-being, serenity, protection, vitality, and freshness are the main benefits and sensations of the essential oils selected in this range called Keiji, Memory of Senses.
About the line
Keiji Memory of Senses is an elegant aromatherapy line of oriental inspiration, formulated with the finest quality ingredients from nature. The brand's logo, a striking red, takes its cue from traditional Asian seals. To emphasize the use of essential oils, the products are embellished with illustrations of natural ingredients, each echoing the age-old artistry of traditional ink painting.
The hair & body gel is enriched with essential oils of Mint & Eucalyptus, famous for their refreshing properties and the shower gel with Juniper and Coriander essential oils, known to be energizing and purifying. While essential oils of Rosemary and Sage, recognized to be invigorating, can be found in the 2-in-1 Shampoo and Conditioner. To finish the bath ritual, relax with the essential oils of Cedarwood and Sandalwood present in our body lotion. All are available in a 40ml size, packaged in bottles made of recycled plastic.
A 20g exfoliating soap and gentle soap with essential oils of Bitter Almond, and 35g bath salts with essential oils of Camomile and Jasmine all available in 0% plastic packaging are also available as part of the Keiji range.
In line with Groupe GM's Care about Earth program, larger format dispensers of 300ml, Ecopump, can be found on the line and are made from recycled plastics. The pumps are created using bio-sourced resin, mainly made from sugar cane. In this format, you can find the hair and body gel, the body lotion, and hand wash with Bitter Almond essential oil enriched, noted for its soothing benefits. Several secure wall bracket options are available in combination with the Ecopumps that can be fixed to the wall with screws or double-sided tape.
A 28g bath tablet with luxurious essential oils of flowers completes the product range.
The formulas for the Keiji amenity range are certified vegan, GMO-free (genetically modified organism), and gluten-free. These products contain up to 98% ingredients of natural origin.
Let the Keiji amenity line immerse you in an atmosphere of tranquility and well-being, for a revitalizing experience that truly soothes the soul.
Care About Earth
The Keiji line is fully compliant with Groupe GM's Care About Earth program, which aims to reduce the impact of its' products on the environment and contribute to sustainability to protect the planet for many generations to come. As an eco-responsible amenities supplier, Groupe GM consistently prioritizes the usage of plant-based materials, post-industry or post-consumer recycled plastics and the sourcing of 100% renewable raw materials. By choosing the eco-design way, Groupe GM offers hoteliers sustainable solutions and helps to guide them in their eco-friendly transition.
President of Groupe GM, Laurent Marchand, said: "Producing high-quality hospitality creations for our clients and partners around the world has always been paramount to us. We understand the increasing need for eco-friendly products and creating packaging that is not harmful to the environment. The Keiji eco-designed amenity range is fully in line with our corporate beliefs and embodies our commitments to excellence and customer care at Groupe GM by providing our clients with luxurious amenities that lower their overall impact."