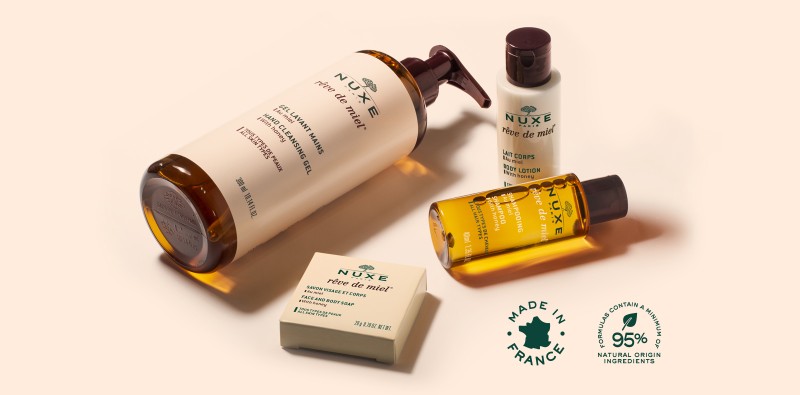 Groupe GM, the international leader in hotel amenities, is renewing its hotel line from internationally renowned French brand NUXE. Celebrating their active collaboration since 2013, this specially tailored amenity range will be available worldwide thanks to Groupe GM's extensive distribution network.
The line, called Rêve de Miel®, is composed of products subtly enriched and scented with honey. With its delicate and honeyed fragrance, the range is perfectly suited for all skin types. The collection comes in a standard line and in a special edition, covering a wide range of amenities.
The amber-coloured standard line is available in 40 ml recycled plastic bottles. It consists of a face and body cleansing gel, shampoo, conditioner, body lotion, and hair and body cleansing gel. These products are also available in a 300 ml Ecopump, a large size dispenser made from recycled plastic, alongside a hand wash gel. A 20 g bar of face and body soap, certified by RSPO* and wrapped in an FSC**approved cardboard box, completes this standard line.
The Ecopump is not the only large size dispenser available in the new hotel line: the standard line will incorporate the new 400 ml Ecofill. Ecofill is an innovative, sustainable and eco-designed product. This dispenser, patented in France and patent pending internationally, is the only eco-friendly dispenser which combines refilling and traceability with a minimum environmental impact. Its sealed refillable pouches, with a capacity of 400ml for only 8g of plastic, are recyclable.
Unlike a traditional refillable system, the Ecofill dispenser presents no risk of a bacterial contamination. The Ecofill refillable pouch is sealed to avoid contamination and also to guarantee that the origin, quality, and traceability of the product comply with the European Cosmetics Regulation.
The light-coloured special edition is available in 50 ml tubes made from sugar cane residue. It consists of a face and body cleansing gel, hair and body cleansing gel, shampoo, and body lotion. It is also available in the 300ml Ecopump for the hand wash gel, and hair and body cleansing gel. In addition to a 20 g bar of face and body soap, this special edition incorporates a 40 g massage soap. The soaps are RSPO* certified and wrapped in an FSC** approved cardboard box.
With its eco-designed products and the large size options, the new NUXE amenity hotel line is fully compliant with Groupe GM's Care About Earth program. With this program, Groupe GM is committed to developing sustainable products and reducing its impact on the environment.
The Rêve de Miel® range can be completed with miniature 10 ml bottles of Huile Prodigieuse or two of NUXE's best-selling, certified vegan products.
Laurent Marchand, CEO of Groupe GM commented, "We are delighted to be partnering with NUXE, a pioneering cosmetics brand that combines nature with well-being and beauty and shares Groupe GM's commitment to the environment. This collection of amenities is consistent with our Care About Earth program and we believe that it is ideally suited to guests' needs."
Discover all the brands offered by Groupe GM at: http://www.groupegm.com/ – or alternatively contact your local distributor.