Global guest amenity leader Groupe GM unveils a remarkable partnership with Trussardi, the iconic Italian lifestyle brand, to introduce an amenity collection that is a harmonious blend of luxury, sustainability, and Italian flair.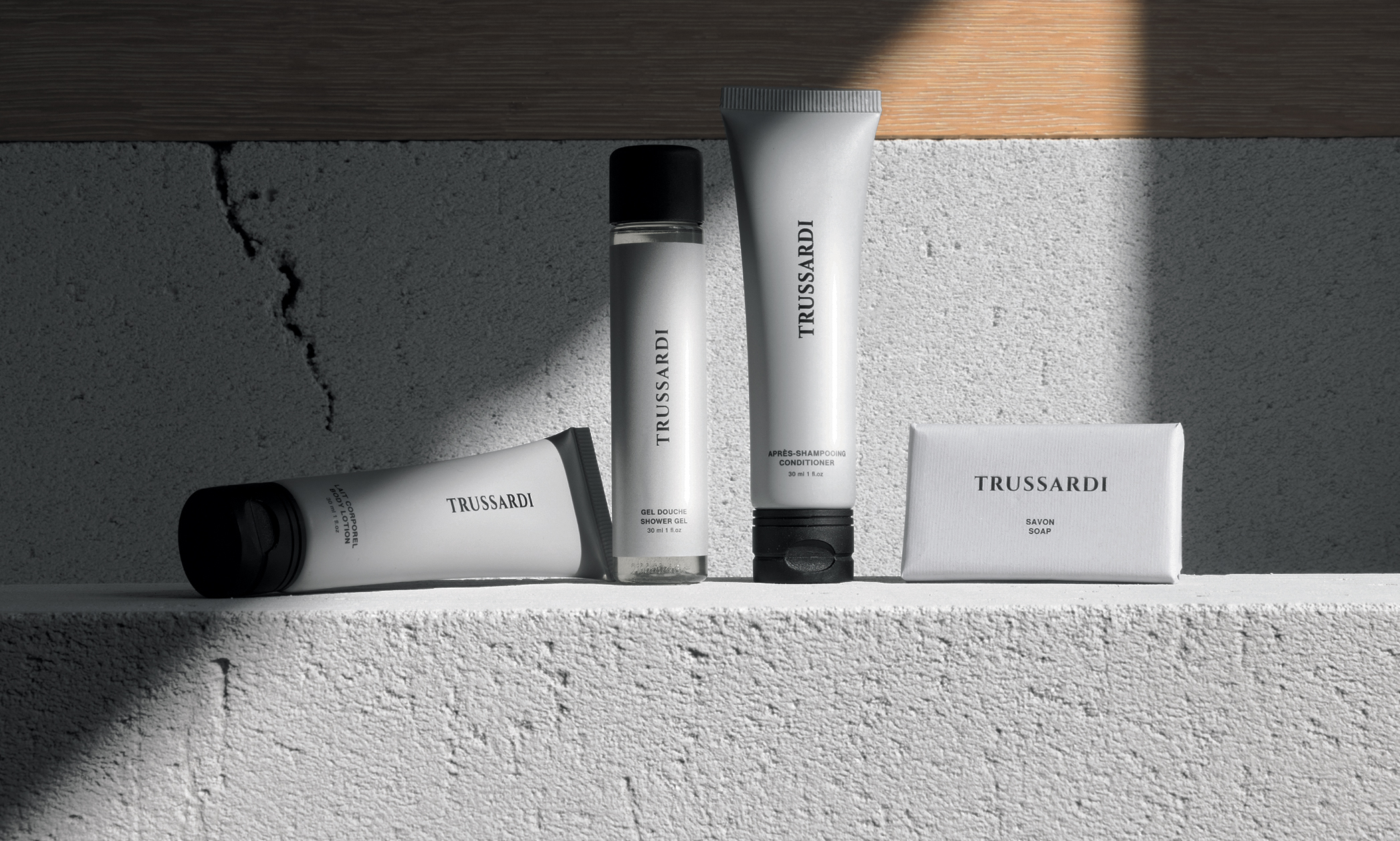 About Trussardi: A Rich Heritage of Innovation and Elegance
Trussardi's journey from a leather glove manufacturer in 1911 to a symbol of elegant yet contemporary Milanese lifestyle is a story of innovation and irreverence. Under Nicola Trussardi's visionary leadership in the 1970s, the brand expanded into leather goods, accessories, and ready-to-wear clothing, making luxury and elegance accessible to all.
The House chose the Italian greyhound to symbolize its unique blend of heritage and modernity, and expanded its presence across lifestyle territories through collaborations, inclusive public fashion shows in iconic locations, and immersive experiences. With the recent reopening of Palazzo Trussardi alla Scala in Milan, a pioneering concept store first opened in 1996, Trussardi's legacy of iconoclasm and innovation continues until today.
Introducing the Trussardi Hotel Line: Sophistication Meets Sustainability
The line features 30ml tubes from sugar cane and 100% recycled plastic bottles of shower gel, shampoo, conditioner, and body lotion, affirming the attention to detail and environmental consciousness. A 20g engraved white soap completes the line.
In a creative embrace of sustainable design, the line includes the 400ml Ghost dispenser of shower gel, shampoo, conditioner, body lotion, hair & body gel, and liquid soap. Aligned with Groupe GM's Care about Earth program, this large format dispenser is made of recycled plastic and is mounted on a hidden rail, creating an illusion of levitation.
To complete the line, the Trussardi shower gel, shampoo, conditioner, body lotion, hair & body gel, and liquid soap also come in 400ml Ecofill pouches. Ecofill is a long lasting tinted transparent dispenser that can be safely refilled with sealed pouches, made with only 8g of plastic, which guarantees minimum packaging and cosmetic traceability, being a clean, secure, and easy solution with minimal environmental impact. A wall bracket is available in stainless steel or ABS recyclable plastic that can be fastened to the wall using two screws or double-sided adhesive tape, or even an aluminum base in black or silver.
With this collaboration, Groupe GM and Trussardi reaffirm a shared commitment to social responsibility and sustainability without compromising luxury and style. This collection is more than a product line, it is a declaration of progressive values and an invitation to indulge in Italian elegance with a conscience.
Care About Earth
The new Trussardi line is fully compliant with Groupe GM's Care About Earth program, which aims to reduce the impact of its products on the environment and contribute to sustainability to protect the planet for many generations to come. As an eco-responsible amenities supplier, Groupe GM consistently prioritizes using plastics made from sugar cane, recycled plastics and sourcing responsible raw materials. By choosing the eco-design way, Groupe GM offers hoteliers sustainable solutions and helps to guide them in their eco-friendly transition.
President of Groupe GM, Laurent Marchand, said: "We are delighted to work with an iconic lifestyle and fashion brand like Trussardi to introduce more eco-friendly amenities to our clients, all while meeting the level of luxury and quality that they expect from Groupe GM. Like the Trussardi vision, we at Groupe GM, are constantly striving for creativity, quality and innovation. This line deeply reflects our core values and will enable hotels worldwide to pamper their guests with expertly fragranced amenities."