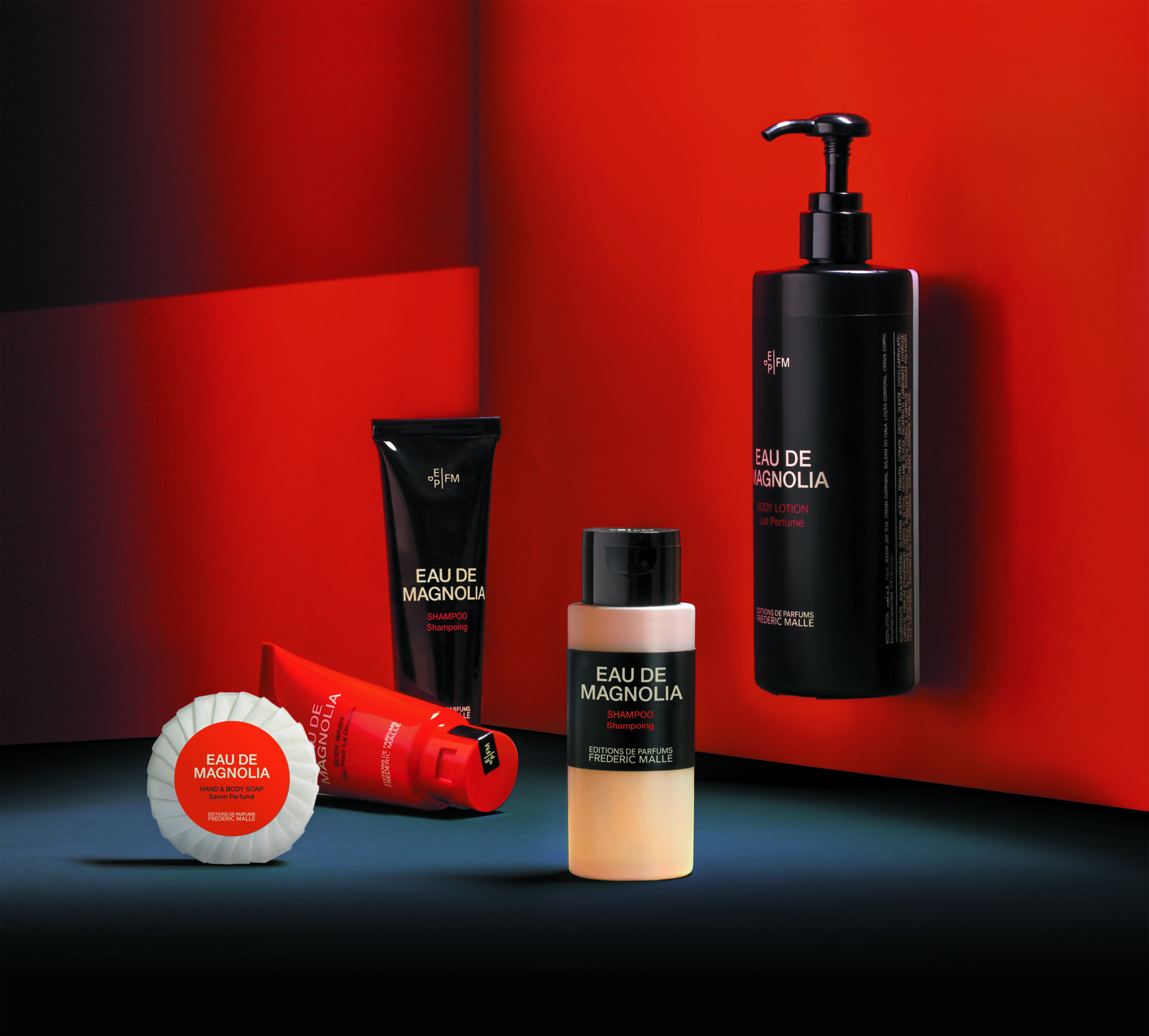 The international leader in the guest amenity industry, Groupe GM has relaunched its' luxurious amenity line in partnership with Editions de Parfums Frédéric Malle.
Frédéric Malle is an iconic French perfume expert. He was born into a family of industrialists, artists and perfumers. His grandfather, Serge Heftler-Louiche, founded Parfums Christian Dior before passing on his art direction to Frédéric's mother. Mr Malle himself now represents the third generation of perfume specialists in his family and has become a world authority on perfume making.
The history of the line
A true perfume lover, Frédéric Malle's decision to found Editions de Parfums in 2000 was driven by his ambition to revive quality and authenticity in the increasingly commercial perfume world of the mid-1990s. He also truly believed in the idea of perfumers being artists. The concept of Editions de Parfums Frédéric Malle was thus born: a publishing house for perfume, where scents are created and published as unique works of art and where the perfumer is the editor, using their creativity and skills to compose and publish the perfume classics of tomorrow. Such was the case with "Eau de Magnolia" which was created by America's greatest living perfumer Carlos Benaïm and leveraged for this hotel line as an ultimate olfactive experience.
"Eau de Magnolia" smells of blooming citrus. Carried by a woody undercurrent, a magnified citric balance of bergamot, lemon and grapefruit tunnels into focus towards darker notes of oak moss and patchouli in an olfactory representation of sunshine and its' shadow.
A new Eco responsible line
The Editions de Parfums Frédéric Malle hotel line features iconic red 40ml plant-based tubes of shampoos, conditioner, body wash, and body lotion tubes. They are are also available in a 50ml and 80ml cylindrical bottle format reminiscent of the brand's perfume bottles. These products, as well as a luxurious bath foam can also be found in elegant 50ml black aluminium tube packaging. Two perfumed soaps in pleat wrap available in 30g and 50g, and a modern wooden tray printed with the brand's name complete the line.
Fully in line with Groupe GM's Care about Earth program, larger format dispensers of 300ml and 400ml have also been added to the amenity line. The Editions de Parfums Frédéric Malle hotel line now features body wash, shampoo, conditioner, body lotion, and hand wash in 300ml large-capacity Ecopump dispensers made from bio-based plastics. Several secure wall bracket options are available in combination with the Ecopump made of stainless steelor black or white ABS plastic and can be fixed to the wall with screws or double-sided tape.
The range also offers 400ml liquids in Groupe GM's new Ghost packaging format. As its name suggests, Ghost is a dispenser fixed on a hidden rail which gives the impression that the product is levitating. This ingenious eco-designed large-capacity dispenser of 400 ml is made from sugarcane and lasts around 40 days. Its' level of product is easily visible thanks to a discreet visibility window. Tamper proof, it can be removed with a secured key when empty.
Finally, the Editions de Parfums Frédéric Malle amenities also comes in the innovative safe refillable dispenser Ecofill. Ecofill is a refillable and traceable eco-friendly dispenser. A clean, safe, fast, and easy solution with a minimum environmental impact. Ecofill bottles are refilled with up to 400ml sealed pouches made with only 8g of plastic, which guarantees minimum packaging and total cosmetic traceability. Ecofill is also available in a 300ml black aluminium format. Ecofill bottles also come with a stainless steel or ABS recyclable plastic wall bracket that can be fastened to the wall using two screws or double-sided adhesive tape. A black aluminium base can be used to place it on bathroom furniture.
Care About Earth
The Editions de Parfums Frédéric Malle line is fully compliant with Groupe GM's Care About Earth program, which aims to reduce the impact of its' products on the environment and contribute to sustainability to protect the planet for many generations to come. As an eco-responsible amenities supplier, Groupe GM consistently prioritizes the usage of plant-based materials, post-industry or post-consumer recycled plastics and the sourcing of 100% renewable raw materials.
President of Groupe GM, Laurent Marchand, said: "We are delighted to work with Editions de Parfums Frédéric Malle to update this successful collaboration and introduce more eco-friendly amenities to this luxurious line. Similar to the Frédéric Malle vision, we at Groupe GM, are constantly striving for creativity, quality and innovation. This line deeply reflects our core values and will enable hotels worldwide to pamper their guests with expertly fragranced amenities".