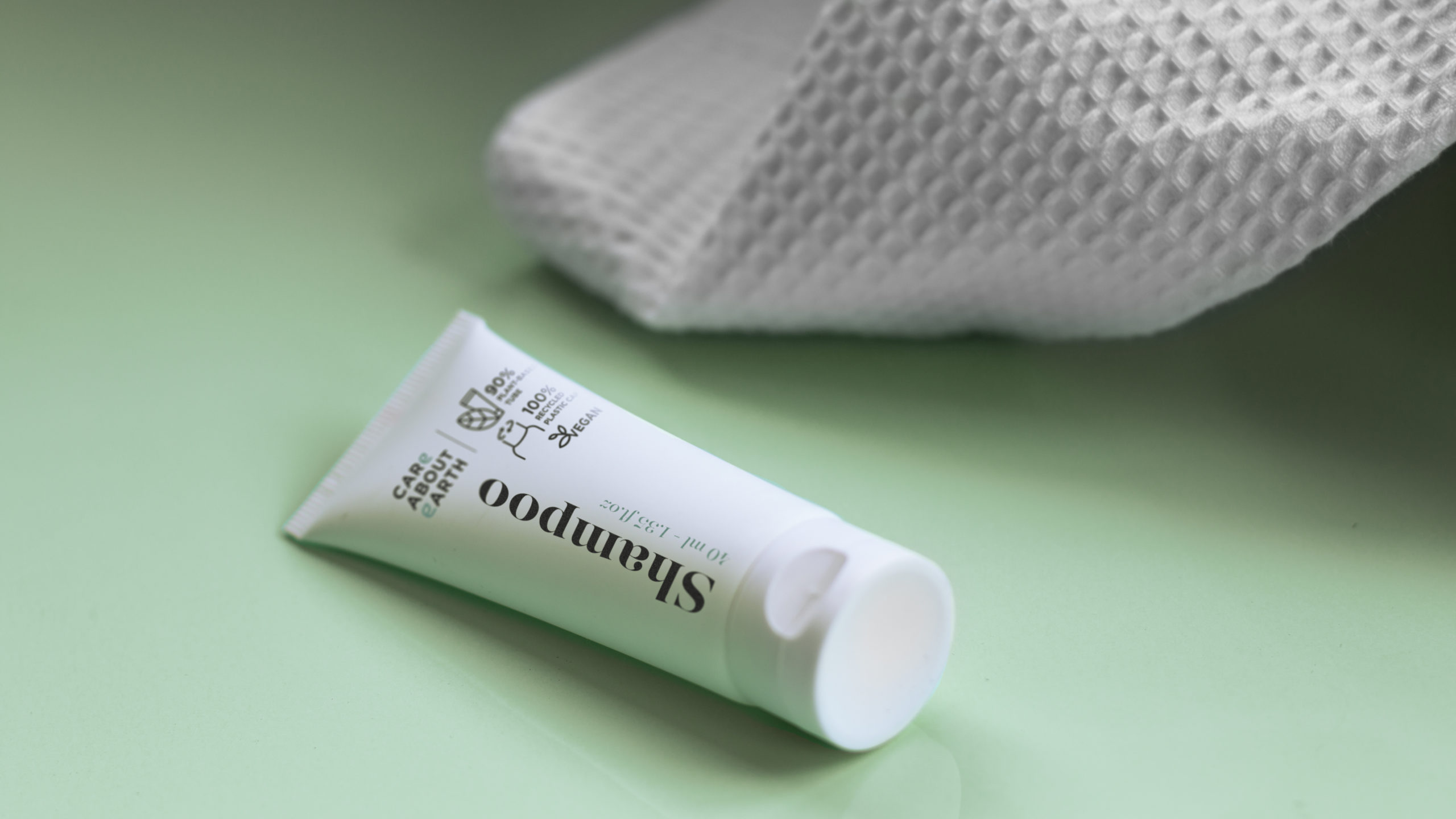 As a leading international amenities provider, Groupe GM continuously strives to become the most environmentally aware it can be.
In 2018, the Group launched the Care About Earth program which covers all the company's environmental and social actions and is an integral part of Groupe GM's corporate strategy worldwide. It was developed following a decision by the Group, its subsidiaries and agents to be a leader and proactive decision-maker in the ecological transition of its products. The program highlights Groupe GM's ongoing commitment to the environment and demonstrates its high ethical standards.
Through the Care About Earth program, Groupe GM takes its commitment to the next level, emphasizing its pledge for a sustainable future. "Groupe GM has worked very hard on this initiative over the past several years, creating lines that incorporate our eco-friendly activities, through our design, ingredients, and packaging. We have several exciting plans in place and plan to launch several new environmentally-friendly products," comments Laurent Marchand, President of Groupe GM.
These projects include a totally innovative, sustainable and eco-designed product recently launched by Groupe GM – Ecofill. This unique and patented dispenser is not just eco-friendly, refillable and traceable, it is also a clean, safe, fast, easy and cost-effective solution with a reduced environmental impact. Its sealed 400 ml pouches offer low-impact packaging with only 8 g of recyclable plastic and full formula traceability.
Groupe GM offers other generously-sized dispensers such as Ecosource, with exclusive airless technology and a refill capacity of 375 ml, made of 10 g of plastic, compared to 30 ml bottles that are made of 8 g of plastic each. The company is also expanding its offering of 300 ml or larger Ecopump dispensers.
Groupe GM works to minimise over-packaging and to prioritise the use of recyclable and recycled materials. The priority for the Group is to eliminate single-use plastics and materials derived from fossil fuels whenever possible and to always promote responsible and sustainable alternatives. Groupe GM offers Ecopump trays, tubes, bottles and dispensers, made not only from recycled plastics but also from plant-based materials such as sugar cane (bagasse).
The origin of all raw plant-based material is strictly controlled, and only material coming from sustainably managed fields and fair trade are used.
Groupe GM is producing soaps with an RSPO base ("Roundtable on Sustainable Palm Oil") which contributes to the production of certified sustainable palm oil.
Groupe GM has also redesigned its accessories with more responsible materials made of straw, corn starch or bamboo to limit the quantity of plastic.
To keep its customers informed, Groupe GM has introduced several eco-labels and eco-designs that appear on its products such as '100% Recyclable', '100% Plant-based Bottles', 'Reduce Water Consumption' and 'Vegan', to name but a few.
The launch of a solid product line with no plastic underscores the Group's desire to create a more sustainable world. This range requires 9 times less water for its production than conventional liquid formulas. The packaging is in FSC-certified cardboard, covered with water-resistant varnish.
Groupe GM offers formulas that contain up to 99% natural ingredients and are guaranteed to be free of controversial phthalates or paraben. The formulas are dermatologically tested.
Groupe GM offers organic cosmetics, certified COSMOS by COSMECERT. An increased focus on the formulas and packaging has helped Groupe GM to obtain EU ECOLABEL certification. This certification is mainly aimed at reducing packaging waste.
Groupe GM considers quality to be a cornerstone of its business. Our plants and industrial partners located in Europe and Asia are ISO 22716, ISO 14001 and ISO 9001 certified and comply with Good Manufacturing Practices. Groupe GM seeks to minimise its impact on the environment by streamlining its supply chain solutions, limiting energy consumption, recycling waste, reducing the use of over-packaging and using clean technologies as part of its Care About Earth program. Not to mention that Groupe GM facilities are classified facilities for the protection of the environment (ICPE).
Groupe GM incorporates a culture where trust, respect, diversity and a quest for excellence have remained core values for over 40 years. It is these values that have inspired Groupe GM to be the sustainable business that it is today. The Care About Earth program sets out the priorities of Groupe GM for its employees, partners and customers. This commitment to social responsibility was recognised in September 2021 by the Ecovadis organisation, which awarded Groupe GM a bronze medal. This award is granted by assessing the following four criteria within a company and ensuring they meet the highest standards: environment, labour and human rights, ethics and sustainable procurement.