Groupe GM, one of the leading international amenities actors, has emphasized its commitment to becoming the most environmentally conscious it can be, with the implementation of Eco-Design into its corporate strategy. The integration of Eco-Design is fully in line with the values of Groupe GM's Care About Earth program, a comprehensive development program focused on the company's environmental and social actions.
Eco-design is the systematic integration of environmental aspects into product design and development. This approach, applied to the design process from the very outset, focuses on striking the best balance between environmental, social, economic, and technical requirements in terms of product design and development.
Through the Care About Earth program, Groupe GM is committed to developing products in a way that reduces their impact on the environment and thus contributing to environmental sustainability, both in the present and for generations to come. An integral part of Groupe GM's corporate strategy worldwide, the program was developed following a decision by the Group to become a leader and proactive decision-maker in the ecological transition of amenity products.
Laurent Marchand, President of Groupe GM, commented "Eco-Design is central to our mission at Groupe GM. Each time a product is developed, it creates an opportunity for us to consider the environmental aspects and reduce our impact at every stage, from the sourcing of raw materials right through to formulation, choice of production site, packaging, packing, shipping and recycling. We are excited to be further implementing this concept into our products and processes, as part of our continued bid to protect the Earth's valuable natural resources."
Groupe GM has launched several Eco-Design initiatives in its ongoing commitment to the environment, including a mission to switch in green materials for single use products in all lines, complemented by plant-based or recycled plastic dispensers. In order to eliminate fossil fuels from its standard offer, products are instead packaged in sustainable materials such as post-consumption and post-industry recycled materials. For example, the Nordic inspired Scandinavian White line features entirely Ecolabel certified products, guaranteeing that packaging is made from recycled and bio-sourced materials and is limiting packaging waste: the labels are in recycled paper, the soaps are wrapped in recycled cardboard boxes, all the bottles are in recycled plastic, and the dispensers' pumps are in bio-resin.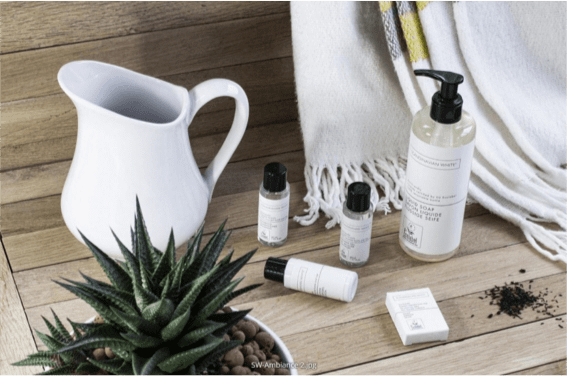 Aiding its efforts to avoid the use of plastics from such limited resources as fossil fuels, Groupe GM now offers 100% plant-based tubes, bottles, and large-capacity dispensers made from sugarcane residue, known as bagasse. This is already a key feature of the Compagnie de Provence line offering for its 40ml tubes, while its Ecopump are made from 100% post-consumer recycled plastic bottles. The popular Omnisens hotel line will also soon be available with amenities made from sugarcane, including the 300ml Ecopump, 50ml bottles, and 30ml tubes. The sugarcane for these green materials is sourced exclusively from sustainably-managed farms and responsible suppliers, and only used from the industrial process after at least 3 extraction cycles. This ensures that Groupe GM's production is not harmful to the ecosystems of the producing areas.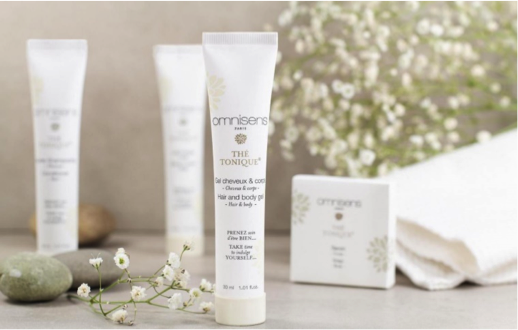 Additionally, in a bid to help protect natural resources such as water, Groupe GM offers solid cosmetic products to reduce water consumption, as featured in the DAMANA® Earth & Sun amenities line. Thanks to its solid form, water consumption is reduced by nine times during the manufacturing process, compared to that of the amount used with classic formulas. As well as significantly cutting back on the water needed for manufacturing, these solids are 100% plastic-free thanks to the FSC-certified cardboard packaging, with water-resistant varnish.
Given that an essential aspect of Eco-Design is drastically reducing unnecessary packaging and prioritizing the use of recyclable materials, Ecofill – the first refillable cosmetic dispenser on the market that is 100% traceable – is an essential part of Groupe GM's eco-conception. The Ecofill dispenser is designed to be reusable, refillable while allowing the traceability of the products, and easy to use. Choosing Ecofill significantly reduces plastic consumption as there are only 8g of plastic used to create one 400ml pouch, compared to the original 30ml bottles that use 8g of plastic each.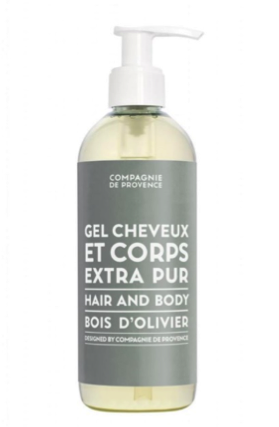 This commitment to reducing plastic use is further strengthened by Groupe GM offering many of its products in Ecosource, an exclusive airless technology which avoids the use of preservatives in its formula. With a 375ml refill capacity made from just 11g of plastic, Ecosource offers 25 times less plastic compared to 30ml bottles.
Lastly, offering responsible green accessories is vital in executing Eco-Design to its full potential. Groupe GM now offers a range of eco-friendly accessories, including cotton buds which are now made with a paper stick, as well as toothbrushes, razors, cocktail stirrers, facial tissues, laundry bags, and even slippers produced using bamboo, corn, sugarcane and bio-resins. The range also boasts other bathroom amenities made from straw and cornstarch.
"Since the launch of the Care About Earth program in 2018, we have worked very hard to develop our products in a way that reduces their impact on the environment, thus contributing to environmental sustainability for future generations. At Groupe GM we understand that there is no fast and easy solution to tackle global warming, but we are taking the relevant actions to meet our customers' and consumers' needs while contributing to a sustainable future, now more than ever through Eco-Design," commented Laurent Marchand, President of Groupe GM.
For more information, please visit Groupe GM's website: www.groupegm.com.