Paris, 17th June 2011 – Groupe GM today announces a partnership with the American brand SUNDÃRI, whose products are inspired from ayurvedic principles and traditional Indian philosophy. Formulated with natural ingredients, the line relies on a holistic approach to wellbeing, body radiance and interior peace.
"This partnership with SUNDÃRI allows Groupe GM to meet our clientele's taste for alternative medecines and oriental philosophies in the Western world. Hotels are looking to stand out with unique and memorable products, as they face a vigourous competition in the hotel industry. A hospitality product such as SUNDÃRI is perceived by clients as a gift with exotic ingredients, and they like to take them home as a souvenir", says Laurent Marchand, President of Groupe GM.
SUNDÃRI, which means in Sanskrit "woman of great beauty", is a holistic concept of high standard treatments that rely on the quality of the purest ingredients and rarest essences in the world. SUNDÃRI products use the regenerative properties of aromatic plants, trees, flowers and roots from the Himalaya area, through essential oils and pure vegetal oils.
The SUNDÃRI amenity line's core ingredient is neem oil. Neem tree is originated from SouthEast Asia. Known as the "miracle tree" or the "thousand virtues tree", it has been used for over 4,000 years in ayurvedic medicine for its healing properties. The extracts from its seeds, its bark and leaves have antiseptic, antiviral, antipyretic, anti inflammatory, insecticidal and antifungal virtues.
"SUNDÃRI products were already available in the most luxurious Spas in the world, such as the Four Seasons Hotel in Lisbon, the Canyon Ranch Spa of Miami or even The Balmoral in Edinburgh. This line of amenities allows to bring the SUNDÃRI experience from the hotel spa to the rooms, for the pleasure of hotel guests", adds Mayank Bhardwaj, Co-CEO at SUNDÃRI.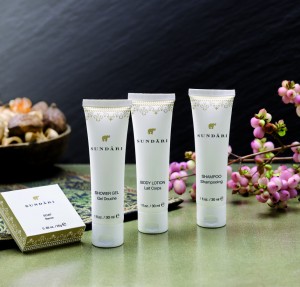 -end-
About SUNDARI
SUNDÃRI is a line of professional skincare inspired by the 5,000-year-old science of Ayurveda, which encourages a holistic approach to beauty in order to balance both body and mind. SUNDÃRI products are synthetic fragrance and dye free, free of mineral oils or toxic substances. The entire SUNDÃRI collection is non-comedogenic, allergy-tested and dermatologist tested. SUNDÃRI products are available at some of the finest spas worldwide and online at www.sundari.com.