Paris, October 22nd 2012 – Groupe GM, an international player in the hospitality products sector for more than 30 years, has signed an agreement with Resense Spa who manages the Kempinski The Spa brand for the Kempinski Hotel Group.
The agreement signed by Groupe GM covers the creation and manufacture of an exclusive collection of hotel cosmetic products developed with Resense for Kempinski The Spa and the Perfumer Blaise Mautin, which are intended for use in the suites of the Kempinski hotels.
This collection of hotel cosmetic products is divided into two lines: the "Classic" line and the "Pour Femme" line. The design of the bottle and perfumes was exclusively created for Kempinski making the collection truly unique.
Blaise Mautin exclusively for Kempinski The Spa
An energising and refreshing fragrance expressed by the delectable aroma of verbena, combined with a white floral accord and a delicate blend of musk and cedar. Helping to revitalize the body and mind in perfect harmony.
Blaise Mautin exclusively for Kempinski The Spa – pour femme
An amber powdered fragrance with notes of bergamot and Italian lemon zest allow instant relaxation. A seductive blend of floral notes and Iris roots create an atmosphere of luxury, comfort and well-being.
"I am delighted that Kempinski The Spa and Kempinski want to offer their guests this collection as part of an exceptional experience, where beauty, creativity and art are celebrated in detail in each product", commented Blaise Mautin. "I share their desire to leave guests with a lasting memory … a taste of an idyllic world, a once-in-a-lifetime journey".
The collection includes shower gel, shampoo, conditioner, body milk and bath salts in bottles of 50ml and 100ml, solid soaps in 40g and 100g and 300ml Ecopump bottles. To complete the line, a skincare product line was developed with a face cream, a hand cream, shaving cream and facial cleanser in 15ml tubes.
Conscious of preserving the environment, while developing the Kempinski The Spa collection Groupe GM used paraben free, phthalate free, silicone-free, GMO free formulas. The bottles and caps are also made of recyclable material. Produced in France, the products have been dermatologically tested and have not been tested on animals.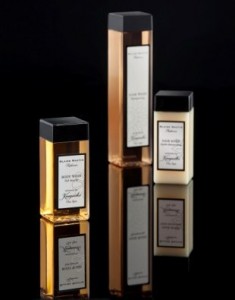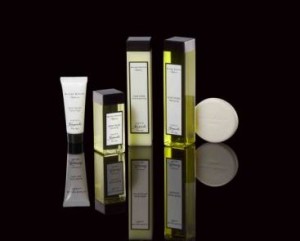 About Kempinski
Created in 1897, Kempinski Hotels is Europe's oldest luxury hotel group. Kempinski's rich heritage of impeccable personal service and superb hospitality is complemented by the exclusivity and individuality of its properties. Kempinski now comprises a portfolio of 72 five-star hotels in 31 countries and continues to add new properties in Europe, the Middle East, Africa and Asia. Each one reflects the strength and success of the Kempinski brand without losing sight of its heritage. The portfolio comprises historic landmark properties, award-winning urban lifestyle hotels, outstanding resorts, and prestigious residences. Each one imbues the quality guests have come to expect from Kempinski while embracing the cultural traditions of its location. Kempinski is a founding member of the Global Hotel Alliance (GHA), the world's largest alliance of independent hotels.
www.kempinski.com
About Kempinski The Spa
Kempinski The Spa is a luxurious spa concept that is being implemented exclusively within new and existing Kempinski hotels worldwide. Inspired by Kempinski's cultural heritage, the distinct European seasons central to Kempinski The Spa's philosophy invoke an understanding in most of us. The treatments are tailored to provide a definite result that suits each guest's individual needs. Kempinski The Spa is focused upon restoring the powerful effect of nature, either by adapting to the outside environment or by restoring inner balance. Kempinski The Spa uses the wisdom of plants, flowers and herbs in all of its treatments, whether it be Winter, Spring, Summer or Autumn.
Kempinski The Spa was developed and is managed by Resense Spa SA, a joint venture between Kempinski Hotels SA and Raison d'Etre, one of the world's leading, 5-star plus, bespoke spa consultancy. With 42 spa contracts currently signed, Resense Spa SA currently operates 13 spas in 12 different countries.