Groupe GM takes on the 'Get Fresh' spirit with a zesty new hospitality line!
Paris, February 25, 2013 –Inspired by the Californian lifestyle, Get Fresh is a bright and bubbly cosmetics brand that makes you want to live life to the fullest.
Staying true to the fruity flavors and colorful designs of Get Fresh products, Groupe GM has designed a fresh and vibrant line of hospitality products, combining the sweet scent of star fruit and sun-kissed pears with the delicate scent of orange blossom.
The new Get Fresh product line consists of 30 ml bottles of shower gel, shampoo, conditioner, body lotion, hair and body gel, soap, both 20 g and 40 g. The line also includes Ecopump dispenser bottles of 300ml for body gel, liquid soap and hair.
Ecopump dispensers offer an elegant combination of quality, hygiene and safety. The dispenser is 100% recyclable, making it a highly ecological product.
Environmentally friendly, the Get Fresh products collection developed by Groupe GM uses paraben free, phthalate free, silicone-free, GMO free formulas. The bottles and caps are developed from recyclable materials. The products have been dermatologically tested and have not been tested on animals.
"Groupe GM's international presence and experience in the hospitality industry is a great asset to Get Fresh and give a boost to our development," said Jim Palladino, President of Get Fresh. "In order to preserve our planet's resources, we are delighted to launch a new line of hospitality products with our longstanding partner, who shares our core values and develops eco-friendly products using natural formulas and recyclable components."
To complete the line, Groupe GM also offers a collection of matching accessories that complement the bath products.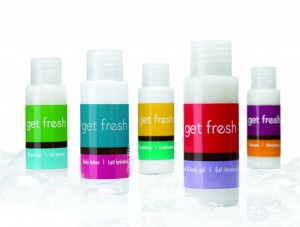 About Get Fresh:
Created in 1997 by Jim Palladino and Jacquelin Overcash, Get Fresh is a Californian-born cosmetics brand. Always at the forefront of innovation, Get Fresh cosmetics combine the purity and quality of natural ingredients with the performance of cosmetology.
"At Get Fresh, we believe that beauty comes from within. That is why we are committed to offering products that are as beautiful as they are efficient."
www.getfresh.net